Login
» Forgot pass

Newsletter
Sign up and be the first to know about the latest special accommodation offers!



Rating of the accommodation by the opinion of 22 guests: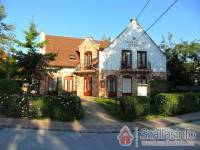 The Varkert Pension is located in picturesque surroundings next to the Castle and the open-air bath of Diosgyor, from where you can get a wonderful view of the Bukk mountains. Disogyor is a convenient starting point for those who would like to discover the famous sights, places of the area: Lillafured, downtown Miskolc are both accessible within 20 minutes by public transport (bus). It takes just about an hour to get to the famous towns, sights (Aggtelek, Josvafo, Mezokovesd, Sarospatak, Tokaj and Bogacs) of the county Borsod-Abauj-Zemplen. Please see our program offers below!
Árak, foglalás »

The rooms of the main building (3) are on the 1st floor of the Pension. Every room is air-conditioned and has its own bathroom (with shower). The rooms are equipped with colour TV, telephone and minibar. Most rooms have a balcony overlooking the Castle and the mountains. The new wing of the Pension has been receiving guests since June 2004. In this wing there are 9 rooms, which are all equipped with bathroom (with shower), colour TV, telephone and minibar. These rooms are not air-conditioned. Check-in: 2 p.m. Check-out: 10 a.m.

The air-conditioned restaurant, located on the groundfloor, can seat 40 people and even more during the spring/summer months when guests can enjoy their drink, lunch or dinner on the terrace in front of the building. Our menu includes traditional Hungarian dishes and local specialities. We overtake the organisation and arrangement of special events. We can fulfil special requirements.

Csoportok részére kedvezmény, étterem, fürdõszobás szobák, légkondicionált szobák, nemdohányzó szobák, reggeli, saját parkoló, szauna, telefon, TV a szobában, ideal for families, SZÉP card accepted.
Two saunas can be found in the basement. Our meeting room is ideal for business meetings, trainings, etc. Maximum capacity: cca 30 persons.

From Budapest: on motorway M3, then within Miskolc follow signs leading to "Diosgyor"
From Tiszai railway station: by bus No. 1, 1A or 101 or by tram No. 1
From "Buza ter" (bus station): by bus No. 1, 1A or 101


In the Castle of Diosgyor several programs, events are organised in spring, summer and autumn. Besides the famous "Varjatekok" (Mediaeval castle plays) and the Kalaka Festival which take place here every year; various concerts, theatre plays await everyone who long for cultural entertainment.
Program offers:
The Castle of Diosgyor
The open-air bath in Diosgyor
Downtown Miskolc (take a walk and visit the famous sights of the downtown area)
Lillafured (take a walk in the Bukk mountains, go boating on Lake Hamori, visit the local caves)
Omassa (visit the "Oskoho", the old smelter)
Miskolc-Tapolca (visit the world-famous Cave-bath, go boating, take a walk in the nice parks)
Aggtelek and Josvafo (visit the caves and the Aggtelek National Park - part of the World Heritage)
Mezokovesd (swim in the famous Zsori bath)

Árak, foglalás »


Locations in the area (ordered by distance):Miskolc
,
Miskolctapolca
,
Lillafüred (Miskolc)
,
Lillafüred-Sebesvíz
,
Berente
,
Kazincbarcika
,
Kács
,
Szendrõ
,
Szalonna
,
Cserépfalu
,
Tard
,
Tiszaújváros
,
Sajógalgóc
,
Bogács
,
Abaújlak-Szanticska
,
Felsõtárkány
,
Tiszapalkonya
,
Noszvaj
,
Pere
,
Tiszakeszi
,
Forró
,
Polgár
,
Novaj
,
Mezõkövesd-Zsóry-fürdõ
,
Szihalom-Zsóry-fürdõ

Szállás ajánló

Köõ Apartman Vendégház
Zamárdi

Hungária Panzió Étterem
Miskolctapolca

Panoráma Vendégház
Badacsonytomaj

Kehida Vendégház
Kehidakustány

Nánási-Lak Vendégház
Túrkeve

Csomagok
Hungária Panzió Étterem
Miskolctapolca

Kikapcsolódás Miskolc-Tapolcán


2 fő, 2 éj, félpanzió:

29.800 Ft

(7.450 Ft/fő/éj)
További csomagajánlatok »

Facebook