Login
» Forgot pass

Newsletter
Sign up and be the first to know about the latest special accommodation offers!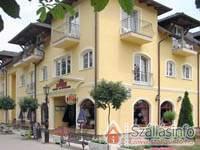 The Xavin Hotel-Restaurant is located in the main street of the city about 150 meters away from the entrance of the spa. The hotel was built in 1998 then it was expanded in 2001. The hotel has 33 double bedrooms, and 1 four bedroom. 32 rooms have balcony and 2 rooms have French gallery. On the first floor of the hotel a restaurant can be found which is open the whole year and from spring till fall has a large tea-garden.
Árak, foglalás »

The rooms are nicely equiped with TV set, telephone, Minibar, safe, shower and toilette. The environment is totally right for relaxing. O ur guests ae able to order half or full board and also there is an opportunity to order 7 or 14 day health care treatments at our reception desk, these treatments take place in the well known spa of the city.

We offer our restaurant for meetings, birthdays and also for graduation parties. Our guests are able to choose from traditional and also from Mediterranean foods. The mild Mediterranean-like climate of the region, along with its fertile soil, helps endow the wines with their sunny southern flavour. Villány and Villánykövesd are known for their ruby-toned red wines, including Blue Franc, Blue Portuguese, Cabernet Franc, Cabernet Sauvignon and Merlot.

Autókölcsönzés, csoportok részére kedvezmény, étterem, büféreggeli, Internet hozzáférés, légkondicionált szobák, lift, nemdohányzó szobák, saját kert, saját parkoló, szauna, szobaszéf, TV a szobában, úszómedence, wellness szolgáltatások, zuhanyozós szobák, SZÉP card accepted.


Árak, foglalás »


Locations in the area (ordered by distance):Harkány
,
Siklós
,
Bisse
,
Rádfalva
,
Pogány
,
Palkonya
,
Újpetre
,
Villánykövesd
,
Pécs
,
Villány
,
Kisjakabfalva
,
Beremend
,
Pellérd
,
Mánfa
,
Cserkút
,
Orfű
,
Magyarhertelend
,
Hosszúhetény
,
Kovácsszénája
,
Zengővárkony
,
Dinnyeberki

Szállás ajánló

Azúr Panzió
Csurgó

Aranyhordó Panzió és Étterem
Pere

Bakonyvári Vadszőlő Szálló és Étterem
Bakonybél

Villa Tópart
Bélapátfalva

Csomagok
Panoráma Vendégház
Badacsonytomaj

-3%

Reggelis meglepetés


2 fő, 1 éj, reggeli:

12.500 Ft

(6.250 Ft/fő/éj)
Amstel Hattyú Panzió
Győr

2-t fizet, 3-at kap !


2 fő, 3 éj, reggeli:

33.800 Ft

(5.633 Ft/fő/éj)
Hegyalja Apartman
Cák

Szüreti csomag


4 fő, 4 éj, ellátást nem tartalmaz:

45.000 Ft

(2.813 Ft/fő/éj)
További csomagajánlatok »

Facebook