Login
» Forgot pass

Newsletter
Sign up and be the first to know about the latest special accommodation offers!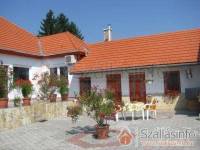 Our nice, separated, non-smoking apartment is equipped with all the things wihch are needed for a pleasant stay. (Nice, unique furniture, high speed cable internet, SAT TV, a fully equipped kitchen, bathroom, sheets, towels, etc.). This aparment is perfect if You want to have a rest in the country side, and also perfect for an active holiday. We have a huge well kept garden with the possibility of barbecueing or cooking in the typical Hungarian "bogrács". Safe parking is also free avaialable. Our apartment is a perfect base to discover the 70% of the UNESCO's world heritage list of Hungary.

Regisztrációs szám: MA19018306
Besorolás: magánszálláshely

Separated apartment with brand new unique furniture, new equipment for 2 persons with the possibility of 1 extra bed. In the "bedroom" part there is a 200 * 180 cm comfortable new bed, which can be converted to 2 single beds. Next to the beds relax armchairs with coffee table. Fridge, microwave oven, coffee-, tee maker, water-boiler, toaster, hotplate, dishes can be found in the kitchen part. The apartment has high speed cable internet connection and SAT TV.

The apartment's equipment ensures the full self-supply, but we can provide breakfast or half pension if it is needed.

Felszerelt konyha, fürdőszobás szoba, grillezőhely, Internet hozzáférés, kerékpározás, nemdohányzó szobák, rádió a szobában, reggeli, saját kert, TV a szobában, Wi-Fi internet hozzáférés, zárt parkoló, ideal for families, pets welcome, baby friendly, SZÉP card accepted.
Available services in the township: cosmetics, masseur, chiropodist, manicurist. Shops, restaurants, pizza-restaurant, pharmacy, fruit & vegetable shop. Tennis-field in 3 minutes distance, fishing lake in 5 minutes distance, horse riding in 30 minutes distance, bycicles can be rented. We speak English, German, we have maps, prospects in 3 languages and we are ready to help You in organizing programs, if it is needed.

It is very easy to get to the apartment. From the motorway M3, You should choose the direction Salgótarján (Road 21) and the apartment is in Zagyvaszántó about 8 minutes from the motorway.


Lots of forests, forest footpaths, mountains, rivers quarries, fields, fishing lakes are waiting for You. In the neighbourhood there are excellent restaurants, where typical Hungarian dishes, and drinks can be tasted. In 1/2 or 1 hours Hungary's famous places such as Budapest, Gödöllő, Hollókő, Hatvan, Gyöngyös, Eger, Hortobágy, Aggtelek, Mátra, Kékes, Lillafüred, Miskolctapolca can be reached. These places are offering spas, beautiful downtowns, villages, mountains, rivers, maroon places, etc.

The 70% percent of the UNESCO's world heritage list of Hungary can be reached from this place easilly. www.vilagorokseg.hu/portal/helyszinek.php

Kattintson a naptárban a kívánt érkezési napra!
Comments:





Locations in the area (ordered by distance):
Zagyvaszántó
,
Gyöngyös
,
Vanyarc
,
Mátraszentimre
,
Mátrafüred
,
Bercel
,
Mátraszentlászló
,
Galyatető
,
Mátraháza
,
Karancsalja
,
Parádsasvár
,
Szécsény
,
Legénd
,
Mátramindszent
,
Parádóhuta
,
Parád
,
Isaszeg
,
Jászberény
,
Bodony
,
Jászdózsa
,
Gyömrő

Szállás ajánló

Muskátlis Ház
Mogyoród

Villa Tópart
Bélapátfalva

Bettina Vendégház-Apartman
Mogyoród

Csomagok
Hegyalja Apartman
Cák

Rövid nyaralás 4 fő részére


4 fő, 4 éj, ellátást nem tartalmaz:

92.000 Ft

(5.750 Ft/fő/éj)
További csomagajánlatok »

Facebook