Login
» Forgot pass

Newsletter
Sign up and be the first to know about the latest special accommodation offers!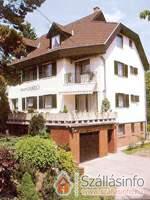 Be our guest in one of the best pensions in Budapest that has received three times the award "Pension of the Year" from Budapest Pension Association. Beatrix Pension Hotel is also recommended by "Good Hotel Guide" since 1991. Beatrix Hotel and its apartman buildings guarantee recreation for tourists in Budapest with 22 comfortable rooms that satisfy every demands with bathroom, minibar, hotel TV (45 cabel channel), telephone and room safe. Our apartments are also supplied with kitchen and air condition suitable for families with small babies or for businessmen staying longer in Budapest. We can also offer bigger apartments for big families or for guests staying more weeks or months in Budapest. We would like to give the freedom of the home for our guests and to provide real comfort through our services.
Booking, further information: Phone: 1/275-0550 E-mail: beatrix@pronet.hu Web: www.beatrixhotel.hu
Árak, foglalás »

Felszerelt konyha, fürdőszobás vagy zuhanyozós szobák, Internet hozzáférés, kávézó, központi széf, nemdohányzó szobák, pénzváltás, reggeli, saját kert, szobaszéf, TV a szobában, zárt parkoló, ideal for families.
Our guests can have a rest after a long walk in Budapest or after work at our café terrace or at the garden barbecue-party. We can offer the horse riding and tennis facilities at hand for those who prefer active recreation. Several shopping centres can be found near the hotel but postcards, stamps, tickets for Budapest Public Transport vehicles, candy, cigarette and certainly every kind of drinks are available at our non-stop reception.The Hotel secures locked car park free of charge for every guests! Our services: Breakfast room with cold buffet, room service, 24 hour reception service, change money, laundry, buffet, room safe, fax and internet facilities, drink-bar, a friendly café terrace in summer, garden grill and goulash parties, landscaped garden with a goldfish pond, locked car park free of charge and garage.

Beatrix Pension Hotel awaits visitors in Budapest in silent, familiar surroundings in an exclusive green belt of Budapest. Budapest City centre and the pedestrian precinct of Váci street is directly available with bus No. 5. Castle of Buda in Buda centre is just seven tram stops away with tram No. 56 from the Hotel. The favourable location of the Hotel ensures the guests to get easy and fast to Budapest City Centre and to the most important sights also with car and public transport.


Organizing programmes: arranging sight-seeing trips in Budapest and land, purchasing theatre and opera tickets, arranging car hiring.

Árak, foglalás »


Locations in the area (ordered by distance):
Budapest 02. (II.) kerület
,
Budapest 01. (I.) kerület
,
Budapest 05. (V.) kerület
,
Budapest 12. (XII.) kerület
,
Budapest 03. (III.) kerület
,
Budapest 06. (VI.) kerület
,
Budapest 11. (XI.) kerület
,
Budapest 07. (VII.) kerület
,
Budapest 08. (VIII.) kerület
,
Budapest 09. (IX.) kerület
,
Budapest 13. (XIII.) kerület
,
Budapest 14. (XIV.) kerület
,
Budapest 21. (XXI.) kerület
,
Budakeszi
,
Budaörs
,
Pilisborosjenő
,
Budapest 15. (XV.) kerület
,
Budapest 16. (XVI.) kerület
,
Budapest 20. (XX.) kerület
,
Budapest 10. (X.) kerület
,
Budapest 19. (XIX.) kerület
,
Szigetszentmiklós
,
Budapest 23. (XXIII.) kerület
,
Szentendre
,
Páty
,
Taksony
,
Dunakeszi
,
Érd
,
Fót
,
Tököl

Szállás ajánló

Muskátlis Ház
Mogyoród

Bettina Vendégház-Apartman
Mogyoród

Tóra Nyíló Vendégház Badacsonyörs
Badacsonyörs

Villa Tópart
Bélapátfalva

Malomtavi Vendégház
Tapolca

Csomagok
Hegyalja Apartman
Cák

Rövid nyaralás 4 fő részére


4 fő, 4 éj, ellátást nem tartalmaz:

92.000 Ft

(5.750 Ft/fő/éj)
Villa Gabriella
Balatonboglár

-25%

Májusi akció:3-t fizet= 4 éjszakát kap:05.01-05.31.


4 fő, 4 éj, ellátást nem tartalmaz:

114.000 Ft

(7.125 Ft/fő/éj)
További csomagajánlatok »

Facebook