Login
» Forgot pass

Newsletter
Sign up and be the first to know about the latest special accommodation offers!



Rating of the accommodation by the opinion of 5 guests: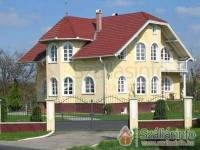 Alex Panzió was opened in October 2006 next of Budapest, near the Airport Ferihegy. The location is pretty good, because the pension is in the old villa neighbourhood which makes it quite and safe, but with the well organized public transportation (by bus or by train) we are only 30 minutes from the centre of Budapest and 10 minutes from the airport Ferihegy. The hotel is ideal for backpackers or those who travel in larger groups and would like to save money on accommodation but would still like to stay in a nice hotel. Our friendly staff will be pleased to suggest sightseeing ideas in Budapest and the surrounding areas during your stay. Closed parking with the remote control gate opening system.
Árak, foglalás »

They await our guest's simple but comfortable accommodation in 1-4 bedded rooms (doubles with their own bathroom available) which are newly refurbished, clean, and offer a friendly atmosphere. Big Apartment 120 m2, 2 rooms for 3+4=7 Person 1 floors Redecorated in 2006. Single room from 26 Euro, double room 35 Euro, triple room 54 Euro, Four bedded room 64 Euro, Apartment 120m2 -84 €. The rooms are comfortable with 1-2 beds and with bathrooms. Apartments 120 m2 with rooms 3 or 4 beds and big nice halls with an American kitchen. They are located in the hallway. There is 1 single shower and there is a bathroom complete. The rooms have a nice view on green garden and yard. Closed parking with the remote control gate opening system.

Felszerelt konyha, fürdőszobás vagy zuhanyozós szobák, grillezőhely, gyermekfelügyelet, ingyenes parkolás, Internet hozzáférés, központi széf, nemdohányzó szobák, saját kert, telefon, TV a szobában, zárt parkoló, ideal for families, baby friendly.
Internet
Wi-Fi wireless Internet in the room (free of charge)
Wi-Fi wireless Internet in a public area (free of charge)
Parking Our pension has a closed parking-lot with remote controlled gate opening system. For guests parking is free of charge. We provide closed, secure parking also for transit guest also, for 6 Euro/day. Dining Upon request we serve meals.

From the town of Gyomro the city center of Budapest is only 30 minutes away by train to the the Keleti Railway Station and about 35 minutes by train to the Nyugati Raiway Station. Trains depart each our and the price of a train ticket on this distance is less than 2 Euro/person/ride.


Árak, foglalás »


Locations in the area (ordered by distance):Gyömrő
,
Vecsés
,
Nagytarcsa
,
Budapest 18. (XVIII.) kerület
,
Budapest 19. (XIX.) kerület
,
Budapest 10. (X.) kerület
,
Budapest 20. (XX.) kerület
,
Budapest 16. (XVI.) kerület
,
Budapest 23. (XXIII.) kerület
,
Mogyoród
,
Budapest 14. (XIV.) kerület
,
Fót
,
Tatárszentgyörgy
,
Budapest 09. (IX.) kerület
,
Budapest 08. (VIII.) kerület
,
Budapest 07. (VII.) kerület
,
Budapest 11. (XI.) kerület
,
Budapest 06. (VI.) kerület
,
Budapest 15. (XV.) kerület
,
Budapest 05. (V.) kerület
,
Budapest 13. (XIII.) kerület
,
Budapest 01. (I.) kerület
,
Taksony
,
Szigetszentmiklós
,
Dunakeszi
,
Budapest 03. (III.) kerület
,
Dunavarsány
,
Szentendre
,
Vác
,
Leányfalu

Szállás ajánló

Villa Tópart
Bélapátfalva

RSD Gyönygyszeme
Ráckeve

Anita Villa
Vonyarcvashegy

Muskátlis Ház
Mogyoród

Csomagok
Tókert Fogadó
Nagymányok

Ajándékozzon élményt szeretteinek


2 fő, 2 éj, félpanzió:

30.000 Ft

(7.500 Ft/fő/éj)
További csomagajánlatok »

Facebook