Login
» Forgot pass

Newsletter
Sign up and be the first to know about the latest special accommodation offers!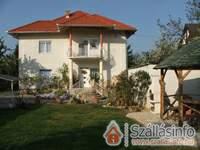 Our apartment house is situated in the centre of Harkány, in a quiet mediterranean area. The spa bath of Harkány is only 150 metres away, the house is standing in a quiet street. The spa bath, the main street, the restaurants and shops are just a 3 minutes walk away. A nice garden with grass, bushes, trees, garden furniture and with a place for barbecue belongs to the house. In the evenings you can have a barbecue, or you can cook something outside in the garden. There is central heating in the apartment house, so our guests are welcome in winter, too. We are open the whole year through. We are happy to have you here as our guest!
Árak, foglalás »

8 + 3 people can stay in the apartment house. There are three apartments and a double room. The apartments can be fitted with extra beds, if necessary. The apartments are 30-40 m2, they are comfortable with modern furniture, sattelite TV and radio. In the apartments there is a bathroom with a shower, a washbasin and a toilet, a well equipped kitchen (fridge, percolator, electric cooker, microwave oven) and a dining corner. There is a balcony to each apartment with tables, chairs and sunshades. In the double room there is a double bed, modern furniture, an own bathroom, a TV and a fridge.

Felszerelt konyha, fürdőszobás vagy zuhanyozós szobák, kerékpározás, nemdohányzó szobák, rádió a szobában, reggeli, saját kert, TV a szobában, zárt parkoló, pets welcome.
Cars can be parked without extra charge in a closed yard, or in a double garage. Services:
Bicycles can be borrowed
Organized excursions to wine cellars, ship trips and hiking
Massage
Breakfast or halfboard
Pets are accepted

Árak, foglalás »


Locations in the area (ordered by distance):Harkány
,
Siklós
,
Bisse
,
Rádfalva
,
Pogány
,
Palkonya
,
Újpetre
,
Villánykövesd
,
Pécs
,
Villány
,
Kisjakabfalva
,
Beremend
,
Pellérd
,
Mánfa
,
Cserkút
,
Orfű
,
Magyarhertelend
,
Hosszúhetény
,
Kovácsszénája
,
Zengővárkony
,
Dinnyeberki

Szállás ajánló

Zafír Vendégház
Balatonfüred

Aranyfürt Apartman
Kunszentmárton

Köő Apartman Vendégház
Zamárdi

Siesta Vendégház
Miskolctapolca

Csomagok
Hungária Panzió Étterem
Miskolctapolca

Kikapcsolódás Miskolc-Tapolcán


2 fő, 2 éj, félpanzió:

29.800 Ft

(7.450 Ft/fő/éj)
További csomagajánlatok »

Facebook