Login
» Forgot pass

Newsletter
Sign up and be the first to know about the latest special accommodation offers!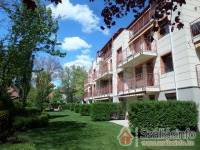 Cosy apartment is to let in the trendiest holiday belt of Siófok, only 200 metres distance from the main beach (known as Coke Club) and 80 metres from the city centre.
The flat is located on the ground floor of a block of flats (western sited) and is directly linked to a well-kept, small garden.
Our guests have free access to a parking lot within a private courtyard. The apartment can be rented maximum 4 people.

The apartment (48 sqm) consists of:
Living room with a double bed and American kitchen (dining room included)

Separate bedroom with a double bed

Bathroom with a bath and two washbasins

Separate lavatory with a washbasin

Hall with a built-in wardrobe

Terrace (10 m2, opening into the garden) with a shade and garden furniture

Felszerelt konyha, ingyenes parkolás, Internet hozzáférés, légkondicionált szobák, saját parkoló, zárt parkoló, SZÉP card accepted.
Internet access. Air-conditioning is available on request. Pets are not allowed in the apartment. Smoking inside the apartment is prohibited.

You are kindly asked to keep the rules of the house.( All loud activities are prohibited in the apartment and in the building alike - especially after 10 p.m. )


There are several sporting and entertainment facilities (as well as a park with a playground) to be found in the close neighbourhood of the apartment. ( e.g. Petőfi alley with bars and discos, an open-air stage for performances, Jókai park, a port etc.)

Distances from the house:
Restaurant: 80 m

Grocery: 200 m

Beach: 80 m

Fishing: 200 m

Inner city: 200 m

Jókai Park - Pond - Playground: 100 m

Port: 200 m

Railway station: 150 m

Bus stop: 150 m

Galerius Aquapark Wellness center: 3,5 km

| | |
| --- | --- |
| 01. Jan. - 30. June | 3.000 - 6.000 HUF / person / night |
| 30. June - 25. Aug. | 28.000 HUF / apartment / nigh |
| 25. Aug. - 01. Jan. 2018 | 3.000 - 6.000 HUF / person / night |
In high season (30.06.2018 - 27.08.2018) the minimum stay is 6 nights.
Only registered guests are allowed to stay in the apartment. Anybody, who is not registered is only allowed to stay with the owner s agreement (and after paying the extra costs).
The price includes: water, electricity, parking in the garden (for one car), bed linen and the cost of final cleaning.
Visitor s tax (from age 18) 400 HUF / pers / night.
3.000 HUF/person deposit: payable upon your arrival and will be returned to you on your departure if no damage has been caused. In case of a damage, its cost will be charged from the deposit.)
SZÉP Kártyát (OTP, MKB, K&H) elfogadunk.

Kattintson a naptárban a kívánt érkezési napra!
Comments:


Pre-payment: 20.000 HUF of the full price must be sent onto our bank account in advance which can not be refunded in case of cancellation. The remaining amount with the deposit and visitors task is payable on the day of your arrival in cash.
Arrival: from 14.00 hours

Departure: until 10.00 hours (at the latest)

In case of any special needs, please contact us in advance!



Locations in the area (ordered by distance):Siófok
,
Balatonszéplak
,
Siófok-Kiliti
,
Siófok-Szabadifürdõ
,
Siófok-Töreki
,
Balatonszabadi
,
Zamárdi
,
Balatonalmádi
,
Alsóörs
,
Tihany
,
Balatonfûzfõ
,
Lovas
,
Balatonkenese
,
Balatonvilágos
,
Szántód
,
Csopak
,
Tihany-Sajkod
,
Balatonfüred
,
Kõröshegy
,
Balatonföldvár
,
Csajág
,
Balatonfõkajár
,
Balatonszárszó
,
Veszprém
,
Balatonszemes
,
Nagyvázsony
,
Bonnya
,
Balatonlelle
,
Lókút
,
Tamási

Szállás ajánló

Amstel Hattyú Panzió
Gyõr

Kehida Vendégház
Kehidakustány

Zafír Vendégház
Balatonfüred

Búbos Apartman
Szentantalfa

Köõ Apartman Vendégház
Zamárdi

Ella Vendégház
Bogács

Hungária Panzió Étterem
Miskolctapolca

Csomagok
Hungária Panzió Étterem
Miskolctapolca

Újranyitási Akció


2 fő, 2 éj, félpanzió:

26.800 Ft

(6.700 Ft/fő/éj)
Ametiszt Hotel
Harkány

Előszezon Wellness akció Harkányban - 2 éjszaka


2 fő, 2 éj, reggeli:

43.480 Ft

(10.870 Ft/fő/éj)
Hegyalja Apartman
Cák

Nyárindító


4 fő, 4 éj, ellátást nem tartalmaz:

45.000 Ft

(2.813 Ft/fő/éj)
További csomagajánlatok »

Facebook