Login
» Forgot pass

Newsletter
Sign up and be the first to know about the latest special accommodation offers!



Rating of the accommodation by the opinion of 1 guests: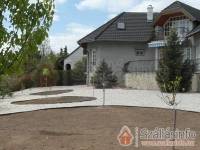 A picturesque village on the slopes of Mount Somlyó on the northern shore of Lake Balaton, Alsóörs offers you a unique mix of breathtaking landscapes, open views over Lake Balaton, unique beaches, sumptuous culinary delights and a centuries-old winemaking tradition. Our uniquely designed Lijoli Guest House is located in one of the most beautiful parts of Lake Balaton in the heart of Alsóörs. Our guest house includes 4 airconditioned two bed rooms, each with bath room and balcony.
Árak, foglalás »

Családi kedvezmény, felszerelt konyha, fürdőszobás szobák, nemdohányzó szobák, önálló vendégház, rádió a szobában, reggeli, saját kert, TV a szobában, Wi-Fi internet hozzáférés, SZÉP card accepted.


Alsóörs is the perfect destination for all who long for relaxing times in a homelike, yet elegant ambiance or wish to discover the manifold historical and cultural treasures of the Balaton plateau. The scenery of Alsóörs is made up of traditional red brick farmhouses, ancient wine cellars with outstanding collections of whites, reds and rosés, the old church on the hillside dating back to the 13th century with architectural elements of the gothic and baroque styles, and the "Turkish House" – a medieval assembly hall that regularly hosts exhibitions and concerts. Visitors from around the world enjoy the mild water of Lake Balaton ideal for beach vacations and boat tours, the beautiful walks along the waterfront, bike trips around Lake Balaton or horse riding excursions. At night, you can sample exquisite local fare offering a variety of tasty fish and venison specialties or international cuisine as well as sophisticated wine assortments in one of the many cosy restaurants and wine bars. Based in Alsóörs, you will also have plenty of opportunities for exciting getaways to destinations across the Lake Balaton region, such as some of the wonderful seaside resorts like Balatonfüred (9 km/5.5 miles), Tihany (16 km/10 miles), Badacsony (50 km/31 miles) and Keszthely (70 km/43.5 miles), the world-famous Benedictine monastery of Pannonhalma (73 km/45 miles) or Herend (27 km/17 miles), the hometown of the renowned porcelain. Come and simply enjoy!

Árak, foglalás »


Locations in the area (ordered by distance):
Alsóörs
,
Lovas
,
Csopak
,
Balatonalmádi
,
Balatonfüred
,
Zamárdi
,
Balatonfűzfő
,
Balatonszéplak
,
Veszprém
,
Tihany
,
Siófok
,
Balatonkenese
,
Siófok-Töreki
,
Siófok-Szabadifürdő
,
Szántód
,
Balatonvilágos
,
Siófok-Kiliti
,
Kőröshegy
,
Balatonföldvár
,
Csajág
,
Balatonszabadi
,
Balatonfőkajár
,
Nagyvázsony
,
Balatonszárszó
,
Lókút
,
Dudar
,
Jásd
,
Zirc
,
Szentantalfa
,
Balatonszemes

Szállás ajánló

Kőkert Pihenőház
Kőszeg
Ráci Szállás
Rácalmás

Villa Tópart
Bélapátfalva

Muskátlis Ház
Mogyoród

Pannon Apartman
Veszprém

Csomagok
Tókert Fogadó
Nagymányok

Ajándékozzon élményt szeretteinek


2 fő, 2 éj, félpanzió:

30.000 Ft

(7.500 Ft/fő/éj)
További csomagajánlatok »

Facebook