Login
» Forgot pass

Newsletter
Sign up and be the first to know about the latest special accommodation offers!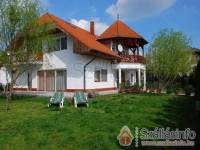 Welcome to the website of our apartment in Gyenesdiás. We appreciate that you check out our offer while planning your holidays at Lake Balaton. We hope that you will enjoy our apartment in a friendly family environment on the North shore of Balaton near Keszhely in Gyenesdiás. We have been hiring this house for 10 years now, that became a favorite of families and friends due to its 6+2 per person capacity, 3 bathrooms, separate dining-room, a well equipped kitchen and friendly prices.
Árak, foglalás »

The apartment has its own lobby, from where you may enter the dining-room on a pair of steps. Three bedrooms, the kitchen, the hall and the living-room can be found right next. You may find a douple bed in each rooms and there is a canope for 2 in the hall. So besides the three double rooms of 6 another 2 persons may enjoy the apartment as well. A television set with a satellite antenne is also available in the living-room. The bedrooms are spacious (19m2-29m2), so additional beds are also available in case. The bedrooms are all in connection with each other via the terrace and two of the rooms are available with their own balconies. 3 bedrooms (one opens from the bedrooms, two opens from the centre of the dining-room) are also available which provides a smooth holiday. A well equipped kitchen with a microwave oven, a stove and refridgerator is available for cooking. A coffe machine and the waterboiler are also available for breakfasts. In a nearby (500-1000m) supermarket and mall you may do your shopping.

Felszerelt konyha, fürdőszobás vagy zuhanyozós szobák, grillezőhely, ingyenes parkolás, rádió a szobában, saját kert, TV a szobában, zárt parkoló, ideal for families, baby friendly.
A grill in the spacious garden is available for our guests at any time. We also provide a closed and safety parking lot. The sands are only 10 minutes walk from the apartment but the main shore is only within a 2km's distance.


Gyenesdiás is a quiet family greenbelts with beautiful streets and houses which is a good choice for those who expect a long rest and a peaceful background. The nearest city, Keszthely is only a few minutes drive, where our guests may find programmes which provide good fun in case of bad weather (like the Castle of the Festetics family, museums, theatre and the cinema) Gyenesdiás is a good choice for those who would like to combine the calm environent of Lake Balaton and the athmosphere of a nearby city with malls, museums and open-air programmes. Our apartment is a good choice for those who would like to rent a spacious, well-equipped and comfortable house on a very friendly price. Please check out our photos and prices and we hope to welcome you as our guests someday in the heart of Balaton.

Árak, foglalás »


Locations in the area (ordered by distance):Gyenesdiás
,
Vonyarcvashegy
,
Keszthely
,
Balatongyörök
,
Balatongyörök-Becehegy
,
Balatonberény
,
Cserszegtomaj
,
Keszthely Kertváros
,
Balatonederics
,
Hévíz
,
Alsópáhok
,
Balatonmáriafürdő
,
Balatonkeresztúr
,
Lesencetomaj
,
Szigliget
,
Sármellék
,
Bazsi
,
Vindornyalak
,
Badacsonytördemic
,
Sümeg
,
Badacsony
,
Zalacsány
,
Balatonfenyves
,
Csabrendek
,
Badacsonytomaj
,
Tapolca
,
Kehidakustány
,
Fonyód-Bélatelep
,
Badacsonyörs
,
Fonyód

Szállás ajánló

Villa Tópart
Bélapátfalva

Panoráma Vendégház
Badacsonytomaj

Krisztián Vendégház
Tapolca

Csomagok
Nyugi Tanya
Szentes

Családi,baráti nyaralás és horgászat


10 fő, 3 éj, önellátás:

108.000 Ft

(3.600 Ft/fő/éj)
Hegyalja Apartman
Cák

Rövid nyaralás 4 fő részére


4 fő, 4 éj, ellátást nem tartalmaz:

72.000 Ft

(4.500 Ft/fő/éj)
További csomagajánlatok »

Facebook