Login
» Forgot pass

Newsletter
Sign up and be the first to know about the latest special accommodation offers!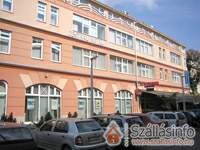 Our hotel is situated in the center of Pécs, the city of mediterranean atmosphere. The hotel is in Czinderi street, only a few steps away from the historical downtown. This 14-rooms-hotel is situated next to Árkád shopping mall. The green park of the mall provides beautiful view for the rooms. On the first floor of the hotel, a non-stop open restaurant and a non-stop open casino provide leisure activities. At the reception desk, our polite, foreign language speaking colleagues welcome and help our guests 24 hours a day. We welcome all our guests!

The hotel has 13 double bedrooms and 1 single bedroom, so it provides comfortable accomodation for 27 guests. In all our exacting, custom built furnished rooms, there is magnetic door-lock, shower, built-in hair dryer, air-conditioner, TV, cable TV, telephone, safe, Internet connection and minibar. All rooms are non-smoking, each of them are furnished with custom-built pieces of furniture of high quality standard.

On the first floor of the building of Hotel Central, there is a III. class Italian Restaurant, Fortuna Pizzeria. Italian pizzas, pastas, delicious salads and grilled meats can be found on the menu. The non-stop open restaurant welcomes its guests 24 hours a day. The air-conditioned Pizzeria has a spacious terrace, in the mediterranean Czinderi street, to receive its visitors in good weather conditions. In the early hours, the 40-seat-restaurant's menu offers breakfast meals as well. Sodas, beers, quality white- and red-wines, short drinks can be found on the beverages' list.

Csoportok részére kedvezmény, fürdőszobás vagy zuhanyozós szobák, légkondicionált szobák, nemdohányzó szobák, saját parkoló, söröző, telefon, TV a szobában.
In our cosy atmosphere breakfast lounge, toasts, boiled eggs, various kinds of baker's ware, butter, jam, honey, cold cuts, yoghurt, patés, cold and hot drinks are waiting for our guests. Our guests have the opportunity of leaving their car in the hotel's private car park. In demand of office services, faxing, e-mail, Internet connection, photo-copying are ensured. All rooms are non-smoking.

The building can easily be reached from Széchenyi square by bus 30, from Nagy Lajos Király street by buses 2, 2/a and 27.


Fortuna Casino: Next to Fortuna Pizzeria, on the floor below Hotel Central there is the non-stop open Fortuna Casino. In the amusement arcade, besides a roulette table, the latest slot-maschines can also be found. In the air-conditioned room, polite employees welcome the enthusiasts of gambling.

Prices with breakfast
Single bedroom:
9.800 HUF / person / night (40 €)
Double bedroom:
13.600 HUF / person / night (55 €)
The charge for accomodation contains the visitors tax as well as the substantial self-service continental breakfast, which can be consumed from 7 am to 10 am.

Kattintson a naptárban a kívánt érkezési napra!
Comments:


Check in, booking at the reception desk, or by phone! The rooms can be taken from 2pm and must be left until 10am on the leaving date. In case of individual demand there can be modifications, if the hotel's capacity makes it possible. Possible means of payment: cash, credit cards, remittance.



Locations in the area (ordered by distance):Pécs
,
Mánfa
,
Cserkút
,
Pellérd
,
Pogány
,
Orfű
,
Bisse
,
Magyarhertelend
,
Hosszúhetény
,
Kovácsszénája
,
Harkány
,
Magyaregregy
,
Újpetre
,
Kárász
,
Siklós
,
Dinnyeberki
,
Zengővárkony
,
Rádfalva
,
Palkonya
,
Kisjakabfalva
,
Dombóvár
,
Villánykövesd
,
Mecseknádasd
,
Dombóvár-Gunarasfürdő
,
Izmény
,
Villány
,
Nagymányok
,
Beremend

Szállás ajánló

Pilisi Faház
Pilisszentkereszt

Muskátlis Ház
Mogyoród

Hotel Holdfény
Kápolnásnyék

Hungária Panzió Étterem
Miskolctapolca

Villa Tópart
Bélapátfalva

Bettina Vendégház-Apartman
Mogyoród

Holiv Apartman
Hévíz

Csomagok
Tündéri Családos Apartmanok
Miskolctapolca

Egy heti pihenés


6 fő, 7 éj, önellátás:

147.000 Ft

(3.500 Ft/fő/éj)
Hegyalja Apartman
Cák

Családi csomag


6 fő, 7 éj, ellátást nem tartalmaz:

100.000 Ft

(2.381 Ft/fő/éj)
További csomagajánlatok »

Facebook