Login
» Forgot pass

Newsletter
Sign up and be the first to know about the latest special accommodation offers!



Rating of the accommodation by the opinion of 4 guests: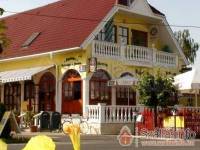 Bükfürdo is situated in Transdanubia in the northern part of Vas County. It lies where the Alps meet the Small Plain. Bükfürdo can be reached within approximately 2.5 hours on the motorway M1 from the direction of Budapest, at the exit road for the main road number 85 near Gyor as well as from main road number 86 and 84. The Bavarian Guest House and Restaurant with family athmosphere can be found in the centre of Bük in an environment with a quiet, peaceful and subtropical climate. The Medical and Thermal Bath is about 1500 meters away from the guest house which can be also reached by bus and the bus stop is 100 metres far. The Bavarian Guest House is looking forward to all guests all year around, even if you wish to spend a few days or a few weeks.
Árak, foglalás »

In the newly constructed two-storey building of the Guest House you can find 9 double rooms, one single room and one spacious apartment. All rooms have extra bed facilities. It is our task to make sure all rooms are spotlessly clean! Each room has a private bathroom, a toilet, clean towels, a minibar, a colour TV with various satellite channels, a built-in alarm clock which all ensure our guests' pleasant stay.

The atmosphere is very relaxing, our Hungarian dishes are delicious. Occasionally we have live music and you can choose your favourite meal from our menu no matter what time of the day it is, either lunchtime or evening. Our Restaurant offers excellent Hungarian and international Cuisine with polite services, real Bavarian beers as well as Hungarian wine specialities. Our motto is: Here the family cooks! We can serve up to 100 people on our open and party covered terraces. The opening hours of the restaurant is from 8 am to 10 pm. The operation of the restaurant does not interfere with the relaxation of our guests in the guest house.

Borozó, borkóstolás, csoportok részére kedvezmény, drinkbár, étterem, büféreggeli, felszerelt konyha, fürdõszobás vagy zuhanyozós szobák, kávézó, nemdohányzó szobák, rádió a szobában, saját kert, sörözõ, szobaszéf, TV a szobában, úszómedence, zárt parkoló, ideal for families, pets welcome, SZÉP card accepted.
Another attractive facility is our eight-metre long, covered swimming pool with beds for sunbathing, you can use our fitness body-building machines, have a barbecue party in the garden, play badminton, table tennis or hire a bike at a reasonable price! All our guests can take advantage of our infrasauna and massage facilities. There is a car park protected by a video camera which belongs to this building built in 2003. The known thermal bath is nearby as well as the wellness aquapark which we can offer you a discount for. There is a horse-riding facility anout 5 km away. The distance from the Austrian ski-runs is 80 km. Individual grilling is possible in our garden.


Sport facilities are very variable, there is a possibility for table tennis, cycling. Further services: infrasauna, gym. Should you have any request, we are all happy to help you out, for example a visit to a dentist, organising any recreational programs, etc.

Places to visit: Bécs 100 km, Sopron 45 km, Kőszeg 20 km, Szombathely 27 km, Sárvár 20 km, Lutzmannsburg (A) 10 km, Balaton 90 km, Budapest 220 km, Lake Fertő 30 km, Ski resorts in Austria 80 km, Birdland Golf club 1 km, Pannonia Ring 25 km.

Árak, foglalás »


Locations in the area (ordered by distance):Bük
,
Bükfürdõ
,
Bõ
,
Szeleste
,
Ólmod
,
Kõszeg
,
Lukácsháza
,
Kõszeg-Pogányok
,
Fertõhomok
,
Gencsapáti
,
Rábapaty
,
Cák
,
Csénye
,
Szombathely
,
Hegykõ
,
Velem
,
Sárvár
,
Sé
,
Fertõd
,
Sarród
,
Vasvár-Nagymákfa
,
Harka
,
Nyárliget
,
Fertõrákos
,
Egyházasrádóc
,
Hövej
,
Sopron
,
Kapuvár
,
Ágfalva
,
Pinkamindszent

Szállás ajánló
Zanati Vadászház
Nagykapornak

Zafír Vendégház
Balatonfüred

Kehida Vendégház
Kehidakustány

Sárvári Vendégház
Poroszló

Hotel Seni Studium
Budapest 10. (X.) kerület

Muskátlis Ház
Mogyoród

Romantik Bungalopark
Balatonudvari
Vízparti Ház
Balatonszepezd

Csomagok
Tókert Fogadó
Nagymányok

Aktív nyári pihenés a Mecsekben (3 éj)


2 fő, 3 éj, félpanzió:

51.000 Ft

(8.500 Ft/fő/éj)
Hotel Seni Studium
Budapest 10. (X.) kerület

Akciós félpanziós ellátás!


2 fő, 1 éj, félpanzió:

21.800 Ft

(10.900 Ft/fő/éj)
Búbos Apartman
Szentantalfa

-8%

Tomboló nyár 3


6 fő, 3 éj, önellátás:

69.000 Ft

(3.833 Ft/fő/éj)
Hungária Panzió Étterem
Miskolctapolca

Nyári felüdülés AKCIÓS áron félpanzióval


2 fő, 2 éj, félpanzió:

33.900 Ft

(8.475 Ft/fő/éj)
További csomagajánlatok »

Facebook