Login
» Forgot pass

Newsletter
Sign up and be the first to know about the latest special accommodation offers!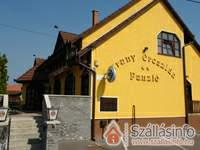 Hurray! Let's have a holiday! Where? Of course in Hajdúszoboszló in Aranyoroszlán Guesthouse! Why there? Whether you want to to feel better or just want to relax or have fun with friends you can also do that. Why Aranyoroszlán? If you would like to enjoy your holiday in a familiar atmosphere choose us and we'll happily wait for your registration. The Spa is only 3 minutes walk from us. You can reach us directly from the main road of Hajdúszoboszló. Our guesthouse is situated in the center and was built in a quiet street 10 years ago. We have 9 comfortable rooms, a familiar restaurant and a terrace. Hajdúszoboszló is a fantastic health resort! It's only 200 kms from Budapest, the famous Hortobágy is also in the neihgbourhood, and the city of Debrecen is only 20 kms away.
Árak, foglalás »

Csoportok részére kedvezmény, drinkbár, ingyenes Internet hozzáférés, ingyenes parkolás, légkondicionált szobák, nemdohányzó szobák, saját kert, saját parkoló, telefon, TV a szobában, zuhanyozós szobák, pets welcome, baby friendly, SZÉP card accepted.
Services available:
half board service
Several kinds of breakfast
9 rooms with bathroom, TV and air conditioning
Good restaurant
Attractive terrace


What makes Hajdúszoboszló so special?
It has a 30 hectare park with spa baths offering a lot of surprises:

pools with different temperature medicinal water
indoor pools
health-center
wave baths
whirlpools
aquapark
seashore-pools
cocktail-bar
lake for boating
restsaurants with local food specialities

In the bustle of the streets you can find every kind of entertainment no matter how old you are.

Árak, foglalás »


Locations in the area (ordered by distance):Hajdúszoboszló
,
Ebes
,
Kaba
,
Balmazújváros
,
Bihartorda
,
Debrecen
,
Debrecen-Józsa
,
Püspökladány
,
Mezőpeterd
,
Füzesgyarmat
,
Biharkeresztes

Szállás ajánló

Villa Tópart
Bélapátfalva

Muskátlis Ház
Mogyoród

Bettina Vendégház-Apartman
Mogyoród

Kék Öböl Panzió
Balatonfűzfő

Csomagok
Tókert Fogadó
Nagymányok

Ajándékozzon élményt szeretteinek


2 fő, 2 éj, félpanzió:

30.000 Ft

(7.500 Ft/fő/éj)
További csomagajánlatok »

Facebook