Login
» Forgot pass

Newsletter
Sign up and be the first to know about the latest special accommodation offers!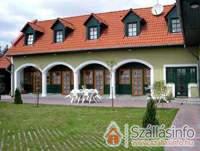 We are offering you four apartments in a tastefully furnished, recently built house, in the western part of Tapolca, in 15 Tavasz street. The apartments have own entrances and can accommodate 2 + 1 persons. The house has a well separated garden with car parking places, trimmed grass, garden furniture, sunbeds. Besides, table tennis, skittle-ground and bicycles are at your disposal free of charge. We are looking forward to your visit, the apartments can be booked all the year!

Regisztrációs szám: EG19020235
Besorolás: egyéb szálláshely

The livingroom is in the groundfloor. The kitchen-corner beside the diner is equipped with extractor fan, fridge, microwave oven, sandwich maker, electric stove and coffee maker. Each apartment has wardrobes with hanging and shelfed units, colour TV, and radio set with CD and tape player. The bedrooms are air conditioned for a better comfort in the summertime, but heating is also installeg for the cold winter days. The bathroom and the toilet are located downstairs, and you can easily access the bedroom from the livingroom using the stairs. Two apartments have duoble beds, in the other ones two beds are beside each other. New: Starting from May 2005, a new apartment is also at our Guests' disposal with five more rooms, 3 bathrooms, kitchen and livingroom. We are able to provide quality accommodation for larger companies as well.

Csoportok részére kedvezmény, fürdőszobás vagy zuhanyozós szobák, kerékpározás, kerékpárkölcsönzés, légkondicionált szobák, pingpongasztal, saját kert, szauna, TV a szobában, zárt parkoló, SZÉP card accepted.
Optionally, it is possible to use the sauna as well.


The volcanic mountains of the region offer excellent possibilities for excusrions. Our family produces grape and wine. Our guests are welcome for a wine-tasting at Szent György mountain!

The town of Tapolca is one of the most preferred touristic targets in Hungary. The beach and harbour of lake Balaton is just about 10 kilometers from here, and the town's thermal bath is also very close. Tapolca is best known for its cave with a lake inside, and the mediterranean type mill-lake.

Kattintson a naptárban a kívánt érkezési napra!
Comments:





Locations in the area (ordered by distance):Tapolca
,
Gyulakeszi
,
Szigliget
,
Badacsonytördemic
,
Lesencetomaj
,
Balatonederics
,
Badacsonyörs
,
Badacsonytomaj
,
Salföld
,
Badacsony
,
Köveskál
,
Balatongyörök-Becehegy
,
Balatonfenyves
,
Balatongyörök
,
Révfülöp
,
Fonyód-Bélatelep
,
Vonyarcvashegy
,
Bazsi
,
Balatonmáriafürdő
,
Fonyód
,
Balatonszepezd
,
Sümeg
,
Vindornyalak
,
Balatonkeresztúr
,
Gyenesdiás
,
Nemeshany
,
Szentantalfa
,
Csabrendek
,
Cserszegtomaj
,
Balatonberény

Szállás ajánló

Nánási-Lak Vendégszálláshely Apartman
Túrkeve

Krisztián Vendégház
Tapolca

Kehida Vendégház
Kehidakustány

Villa Tópart
Bélapátfalva

Bettina Vendégház-Apartman
Mogyoród

Panoráma Vendégház
Badacsonytomaj

Csomagok
Nyugi Tanya
Szentes

Családi,baráti nyaralás és horgászat


10 fő, 3 éj, önellátás:

108.000 Ft

(3.600 Ft/fő/éj)
Hegyalja Apartman
Cák

Rövid nyaralás 4 fő részére


4 fő, 4 éj, ellátást nem tartalmaz:

72.000 Ft

(4.500 Ft/fő/éj)
További csomagajánlatok »

Facebook