Login
» Forgot pass

Newsletter
Sign up and be the first to know about the latest special accommodation offers!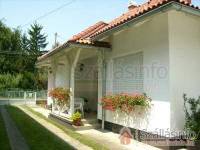 AB Balaton House – clean rooms to let in Balatonlelle ( Hungary ), apartment to let by the Lake Balaton Two nice holiday – houses of the Family Bernat wait for you in Balatonlelle (Hungary ) at the southern shore of the Lake Balaton. Our houses stand at a small distance of a 5 minutes-walk from the broad free-beach of Balatonlelle ( former Boglarlelle, Balatonboglar ). To the house belongs a grassy, big garden, where adults can take a sun-bath or broil meat or fish, and children can play around. Parking place for cars is also in the garden.

Regisztrációs szám: MA19010105
Besorolás: magánszálláshely

House "A": nice, clean single-storied house with a homely living room, peaceful eating room and kitchen, nice terrace, classic-styled bathroom. There are 2 double rooms, and 1 three-bed room in the house. The house is for rent as one whole apartment or room by room, just as tourists require. House "B": second floor of a peaceful family-house. You can find here 4 rooms to let (3 x double rooms, 1x three-bed room) with a big sunny terrace, a nice balcony with a view to the garden, a bathroom with shower, and a US-styled living room with kitchen. The house is for rent just as you require: as one whole apartment, or room by room... Each house has an own terrace, a good equipped kitchen and there is sufficient car-parking place for each room. If you bring your bicycle or canoe, you can use our storage room. In the big grassy garden there is a fire-place - there you can make a barbecue party. For smaller children we have a sand-pit and a climbing sail too.

Felszerelt konyha, grillezőhely, nemdohányzó szobák, önálló vendégház, pingpongasztal, Wi-Fi internet hozzáférés.

Take the highway "M7", and leave the highway by Balatonlelle or Balatonboglár. Then take road No. 7 and find the MOL petrol-station. Turn into our street (19. Munkacsy street ). If you come via Vienna, please take the highway no.1, then take the road no.84, and then the highway M7. You can easily find us with the aid of a navigation system. From the south please take the road no. 67. If you take the train, you will have to change train in Budapest. Then it takes 150 minutes to arrive in Balatonlelle. You can also come by air(plane), and arrive in Budapest-Ferihegy, or in Sármellék. Our town is located at a distance of 140 kilometers from the capital, and 60 kilometers from Sármellék. We wait for your reservation: AB Balaton House Family Bernat Balatonlelle (former Boglarlelle) 19. Munkacsy Street 8638, Hungary Phone from abroad: 00 36 30 419 38 16 e-mail: marti58@supraktv.hu


The big free beach starts at the end of our street - it takes a walk of 4-5 minutes. As Lelle is a real "beach-town", you can rent a surf or a kayak at the lake, and you can have a slide at the giant water-chute. In a small distance from our door there are food stores, a bakery and a gas station (7-24). Within a radius of 300 meters there are several restaurants - some are cheap, others luxurious, but the meal is delicious everywhere. In the small pubs you can taste the finest vines of the Southern-Balaton Vine Region, and you can try palinka, the traditional "Hungarian short drink". The pedestrian zone in the town-center is a beloved meeting point. By the port there is a real night life with 5 discos, bars, pubs, restaurants, shops and music festivals. Children definitely like the two holiday parks with go-kart racing ring and the fascinating evenings in the Hungarian National Circus - 2 minutes by car or 12 minutes of walk. If you like fishing, we can recommend you good small lakes rich in fish within a distance of 4-6 kilometers from our house. If you need a good dentist, a hairdresser or simply a good massage, you can get it in Balatonlelle.

House "A"
Room
from 15 €/person/night
Minimun price for whole apartment(01 june - 31 aug) max. 4 person
60 € /night
More than 4 person
15 €/person/night
House "B"
Room
from 15 €/person/night
Minimun price for whole apartment(01 june - 31 aug) max. 4 person
60 € /night
More than 4 person
15 €/person/night

Kattintson a naptárban a kívánt érkezési napra!
Comments:


For inquiring in english language, please call this number: 00 36 30 419 38 16



Locations in the area (ordered by distance):Balatonlelle
,
Balatonboglár
,
Balatonszemes
,
Révfülöp
,
Szentantalfa
,
Lengyeltóti
,
Fonyód
,
Balatonszárszó
,
Köveskál
,
Badacsony
,
Nagyvázsony
,
Badacsonytomaj
,
Badacsonyörs
,
Fonyód-Bélatelep
,
Balatonföldvár
,
Badacsonytördemic
,
Kőröshegy
,
Szigliget
,
Szántód
,
Balatonfenyves
,
Gyulakeszi
,
Tihany
,
Balatonederics
,
Balatongyörök-Becehegy
,
Tapolca
,
Balatonfüred
,
Zamárdi
,
Balatongyörök
,
Bonnya
,
Siófok-Töreki

Szállás ajánló

Muskátlis Ház
Mogyoród

Villa Tópart
Bélapátfalva

Bettina Vendégház-Apartman
Mogyoród

Csomagok
Hungária Panzió Étterem
Miskolctapolca

Tavaszi kikapcsolódás, 12.000 Ft/fő/éj félpanzióval


2 fő, 2 éj, félpanzió:

48.000 Ft

(12.000 Ft/fő/éj)
További csomagajánlatok »

Facebook