Login
» Forgot pass

Newsletter
Sign up and be the first to know about the latest special accommodation offers!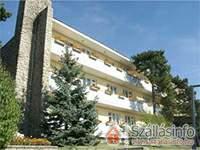 The Hotel Fenyves Panoráma is a family atmospheric hotel, which is located on the hillsides of Mecsek by the pine forest, right above the centre of the town. There is a beautiful view over Pécs, from the balconies of the rooms, the restaurant and from the Panorama balcony which can hold 25 persons altogether. Our hotel is a *** category hotel, 3 storied, fully renovated, 23 rooms: 20 rooms are with balconies, panoramic, having a southern aspect with a view of the town, 2 rooms are facing to the forest, 1 apartment with balcony, panoramic.
Árak, foglalás »

20 fully renovated normal rooms, all the rooms are panoramic, with balconies, nicely furnished, having double bed, bathrooms, Cable TV, minibar, telephone, internet connection (WIFI), air-conditioned. 1 fully renovated suit (living room and bedroom separated) with balconies, nicely furnished, having double bed, bathrooms, Cable TV, minibar, telephone, internet connection (WIFI), air-conditioned. 2 rooms are smaller in size, facing to the forest, having double bed (140*200 cm), no table and no chair, shower, Cable TV, telephone, without balcony. There are 3*2 rooms which could be opened together, giving a very good opportunity for families to stay. Please let us know in your reservation, if you would like to have this type of room.

Csoportok részére kedvezmény, étterem, fürdőszobás vagy zuhanyozós szobák, Internet hozzáférés, légkondicionált szobák, nemdohányzó szobák, reggeli, saját kert, szauna, TV a szobában, zárt parkoló, ideal for families, SZÉP card accepted.
The restaurant, rooms, banqueting hall and rest room are air-conditioned. The Hotel's Restaurant is air conditioned, can hold 80 person. The restaurant and the banqueting halls (2 pc of, each other can hold 25 person) are suitable for arranging weddings, receptions, high standard balls, conferences and other different programs. In a good weather day you can spend some nice hour on the Restaurant's terrace, while enjoying the taste of good foods and wines. Hotel services: Welcome drink if preferred, sauna, table soccer, 24 hour reception service, parking lot, bicycle storage, baby bed, room service, taxi order, baggage room, theatre ticket order, hair dryer and iron can be asked at the reception. Our masseur and sauna is available by appointments.


Pécs, the more than 2000 years old, Mediterranean town, with its cultural and artistic face, Roman age archaeological excavations, entitled to be called one of the most beautiful towns in Hungary. In the enchanting square, in front of the Basilica there are a group of ancient monuments, which have been on the UNESCO World Heritage list since November 2000. The ancient Christian necropolis is a unique relic from the ages of ac 313-430. Pécs is waiting for the guests with the famous theatre of Pécs, cultural programs, special Mediterranean atmospheric restaurants, confectioners shops.

Árak, foglalás »


Locations in the area (ordered by distance):Pécs
,
Mánfa
,
Cserkút
,
Pellérd
,
Pogány
,
Orfű
,
Bisse
,
Magyarhertelend
,
Hosszúhetény
,
Kovácsszénája
,
Harkány
,
Magyaregregy
,
Kárász
,
Siklós
,
Dinnyeberki
,
Zengővárkony
,
Óbánya
,
Rádfalva
,
Palkonya
,
Kisjakabfalva
,
Dombóvár
,
Villánykövesd
,
Mecseknádasd
,
Dombóvár-Gunarasfürdő
,
Villány
,
Nagymányok

Szállás ajánló

Muskátlis Ház
Mogyoród

Bettina Vendégház-Apartman
Mogyoród

Bakonyvári Vadszőlő Szálló és Étterem
Bakonybél

Villa Tópart
Bélapátfalva

Csomagok
Villa Gabriella
Balatonboglár

-25%

Májusi akció:3-t fizet= 4 éjszakát kap:05.01-05.31.


4 fő, 4 éj, ellátást nem tartalmaz:

114.000 Ft

(7.125 Ft/fő/éj)
Hungária Panzió Étterem
Miskolctapolca

Tavaszi kikapcsolódás, 12.000 Ft/fő/éj félpanzióval


2 fő, 2 éj, félpanzió:

48.000 Ft

(12.000 Ft/fő/éj)
További csomagajánlatok »

Facebook